Covid 19 Boosters
We now have some limited supplies for the Covid Booster vaccinations. However, due to their limited availability, we will contact you to book you in for them. We are booking people in who had their vaccinations done either at the surgery or at Springfields vaccination centre.
If you have had your vaccinations done at one of the other vaccination centres, we are asking patients to get their booster done via those centres again. Please wait for the NHS to contact you saying you are due your booster vaccination and then contact the vaccination centre to arrange your booster. When arranging your booster, please confirm it is at least 182 days after your second vaccination.
Covid-19 Safety Measures
We are following guidance from Public Health England issued 13.07.21
Sutterton Surgery will continue to maintain Covid 19 safety measures on the easing of restrictions from 19 July 2021. We have now opened up the surgery to all patients, regardless of whether they have an appointment or not.
Telephone triage to continue for appointments in the first instance
Please wear a face covering when entering the practice, or one will be provided
Be mindful of other patients and practice staff and keep a respectful/safe distance
We will continue to take your temperature when you arrive at the practice
We will direct you through the practice, using our one way system - if you have restricted mobility please let us know and we can organise your exit out the front via the ramp
Please continue to use the hand sanitiser provided
For more information please see our presentation above.
NHS England Coronavirus Contact Centre
0300 311 22 33
Support Your Surgery
"GPs and their teams have faced an extremely challenging time during the COVID-19 pandemic. The restrictions have meant that face-to-face contact with patients has been limited in order to keep practice staff and patients safe.
The Support Your Surgery campaign provides GP practices with the tools to both manage expectations and to provide patients with the reality of issues facing general practice.
Alongside this, we have launched a petition calling on the UK Government to provide the urgent resourcing needed to increase the number of GPs in England." - British Medical Association, BMA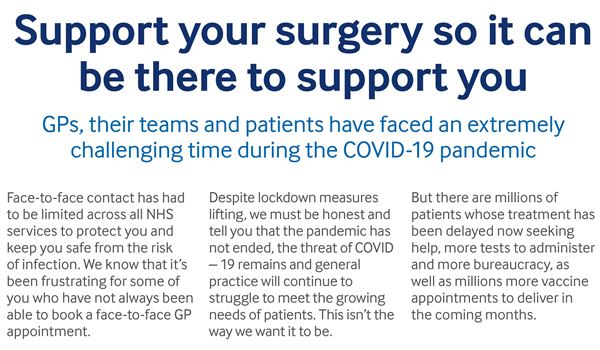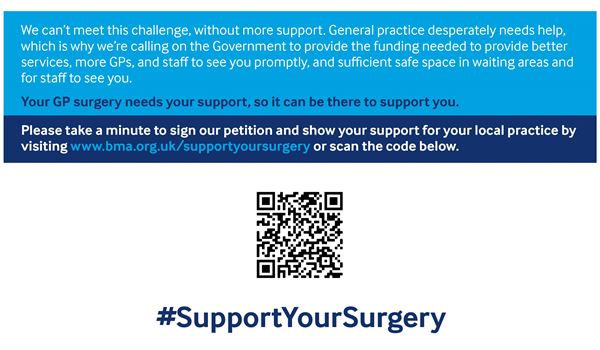 Proof of Covid-19 Vaccination
Patients who have had both Covid-19 vaccine doses will be able to demonstrate their Covid-19 vaccination status via the NHS App or call 119.
Please use one of these options as we are unable to provide proof of vaccination ourselves.