7th Nov
Covid & Flu Clinics Time Changes
We are now holding the walk-in clinics 5pm-6.30pm every Tuesday and Wednesday. Please bear these changes in mind when coming for your vaccines. We are also still vaccinating people not registered at our practice. Please feel free to drop by and bring your NHS number or NHS letter if you're not a registered patient.
Thanks!
18th Oct
Need Your Covid Vaccine But Not A Patient?
We are extending our Covid vaccinations to people not registered at our practice. If you want your vaccination and are eligible, please drop by our vaccination clinics Tuesday and Wednesday from 5pm to 6.30pm with your NHS number or NHS letter.
17th Oct
Still Need Your Flu and/or Covid Jab?
If you weren't able to attend Flu & Covid clinic this weekend, we are holding walk-in clinics every Tuesday and Wednesday 5pm to 6.30pm until further notice. But, we would like to give a big thank you to everyone who came to the Covid & Flu clinic at the weekend. It was lovely seeing so many of you again and getting into the community spirit. To see how much you helped us, please visit the Patient Zone.
12th Oct
Access More Of Your Health Records
From November 2022, NHS Digital are expanding the records accessible through online services. Patients will be able to see more detailed health records through their online services including medications, test results, consultation notes, known allergies, ongoing and past problems as well as past immunisations.
This is being rolled out automatically and will affect all users with online accounts, even ones after these changes have been rolled out. For more information, please see our Patient Record page and NHS Digital.
Thanks!
9th Sep
World Suicide Prevention Day 10 September 2022
Things need to change. We need to talk about our mental health.
Things to look out for:
Continually lacking energy
Becoming anxious, irritable or confrontational
Mood swings
Acting recklessly
Sleeping too much or too little
Isolating themselves from others
Focusing on the negatives
Using drugs or alcohol to cope with situations
Discussing or mentioning suicide
Help is available:

If you live in Lincolnshire, and need help give us a call on : 0800 001 433 ( open 24/7)
If you are under 18, call Here4you advice and self-referral line on: 0800 234 6342 (open 24/7)
www.lpft.nhs.uk/suicide or www.samaritans.org
Download the Stay Alive App via the App store
Alternatively please contact:
Steps2change

0303 123 4000 - www.lpft.nhs.uk/steps2change-lincs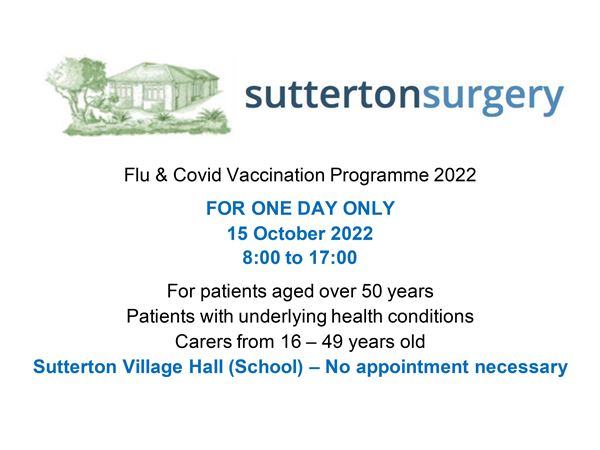 7th Sep
2022 Covid & Flu Boosters
We are now offering Covid & Flu Boosters on 15/10/2022, 8am to 5pm at the Sutterton Village Hall. Patients are eligible if they are either over 50, have underlying health conditions or are carers aged 16-49. No appointment is necessary. We hope to see you there!
Care Home and housebound patients will be contacted by the practice reception staff shortly. We aim to vaccinate patients in this cohort, week commencing 10 October 2022.
Thank you.
23rd Aug
Changes to Prescriptions
We kindly ask that you allow 3 working days before collecting your medication, due to the increasing demand with new patients registering at the practice.
When ordering using our answer phone facility, please ensure you provide your name, date of birth and all the items you are wanting to order.
Thank you all for your patience.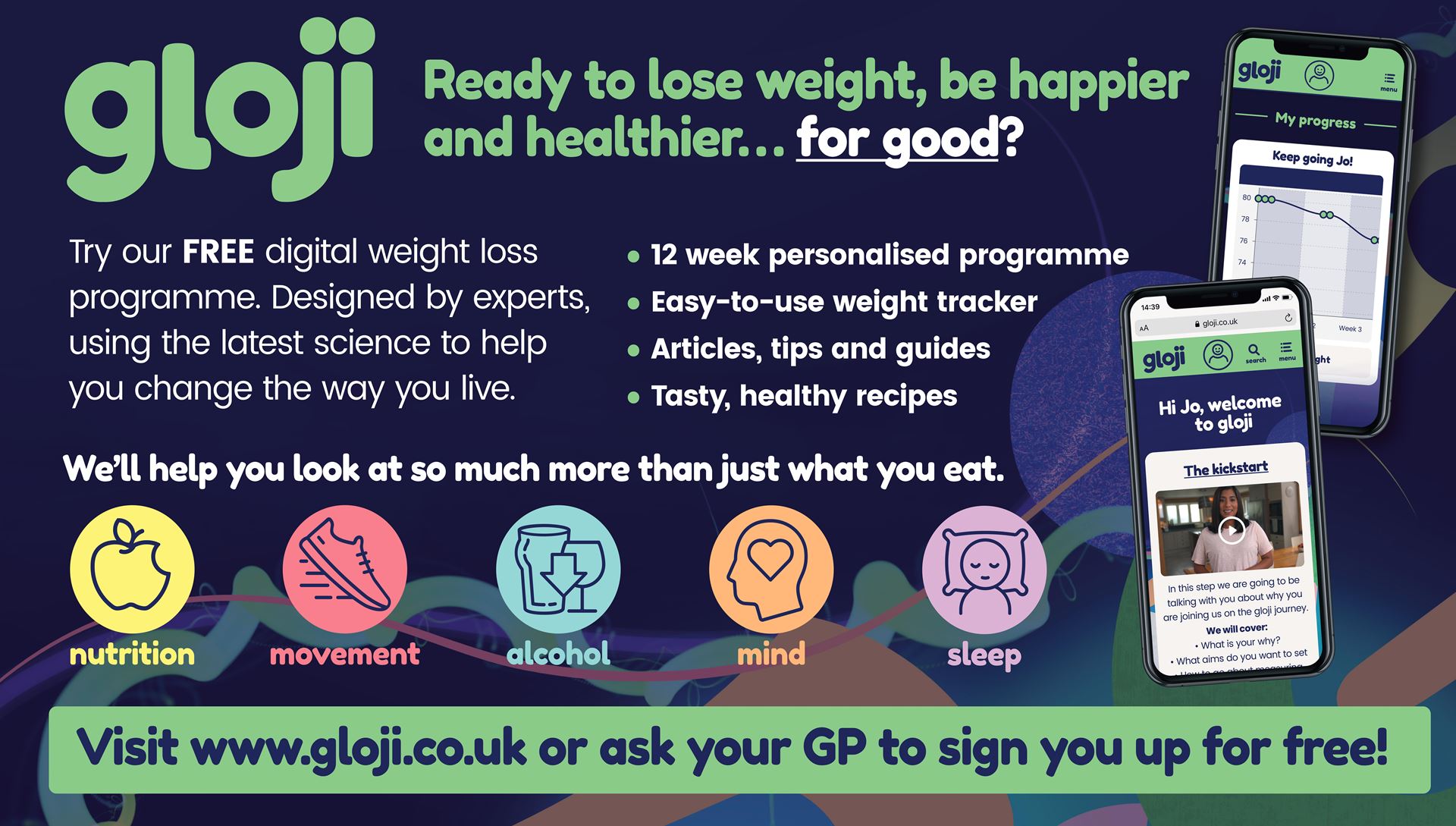 27th Jul
Need Help Losing Weight?
Ready to lose weight, be happier and healthier? One You Lincolnshire are promoting their weight management app to help support you. For more information please visit the gloji website.
27th Jun
What do you think of our appointment service?
This questionnaire is now closed.
We are looking for people to provide feedback and help improve our appointment service. If you are willing to provide us feedback, please complete this questionnaire from the South Lincolnshire Rural Primary Care Network. The questionnaire will be up for a week or two. Thank you.
21st Jun
Staff Absences
We are currently experiencing some staff absences and have a reduced number of staff on in dispensary and reception. Although we are doing the best we can to keep up with the medication requests we have received, please be aware it may take a little longer than the normal 2 working days for them to be ready.
We apologise for any inconvenience this may cause and thank you for your patience.
9th Jun
Face Coverings & Attending The Surgery
The wearing of face masks is no longer required when entering the practice. If you have respiratory symptoms it is recommended that you continue to protect our more vulnerable patients and continue to wear a face covering. Thank you.
8th Jun
National Carers Week & Young Carers' Newsletter
Did you know it's National Carers Week 2022 this week? For this week, we wanted to especially recognise young carers and all the support they provide our community. If you are a young carer or just interesting in supporting them, please take a moment to read our Newsletter. It contains many useful links and events that may help you.
If you are a young carer and need some help or a professional supporting a young carer and need some guidance, please contact either Sally Stanfield directly at sally.stanfield@lincolnshire.gov.uk or Rachel Stokes at youngcarers@lincolnshire.gov.uk
25th May
Queen's Jubilee & Prescriptions
The surgery will be closed next week on 2nd and 3rd June to celebrate the Queen's jubilee. Please bear this in mind and consider ordering a little earlier when you order your prescriptions for around these dates.
18th May
Website Changes
We have currently been doing some changes to our website by updating existing pages and adding a few new pages. Some of the key changes include improving our test result page to explain our processes of having tests and receiving their results. We are also adding a patient zone to answer questions our patient group have asked us and to show all the things they have helped us with.
We hope these changes will make it clearer what's going on here. We thank you for your patience in the meantime.
17th May
Staff Re-shuffle
Our dispensary manager (Julie) is moving to help our delivery team with the nomad boxes. Joanne will takeover as dispensary manager and wish her all the very best in this new role. Congratulations Jo!
25th Apr
Bank Holiday Prescriptions
Just a quick reminder of the upcoming Bank Holiday on Monday 2nd May. We are closed over this bank holiday and they do tend to get quite busy around them. If you are due to run out around the Bank Holiday, please consider ordering a little earlier than normal to allow us more time to get it ready.
Hope you all have a great Bank Holiday!
22nd Feb
Covid Safety Measures
Evening,
We will continue to maintain many of our safety measures to protect our practice and vulnerable patients, following the Government announcement to ease the remaining Covid restrictions. The full list of these measures can be found on our Covid Information Page.
9th Feb
Welcome to Our New ANP
Morning,
We are delighted to welcome not one but two Advanced Nurse Practitioners to the practice: Hilda and Euan. They will both provide support to Dr Hughes and all our patients.
Thanks!
2nd Feb
Patient Records & Online Services
Morning,
We have now extended the records patients can access through online services, such as Patient Access. For more details please see our Patient Record page. To Opt-In, please contact a member of staff. Please be careful when accessing and handling these records as we have limited control over who can access them via your online accounts. Thanks!
1st Feb
Join Us With Our Events
Evening,
We have now launched a new page for all the social and health related events we will be holding. If you want to get more involved or just half some fun, take a quick look and see if there's anything that interests you. This month we kick off with Pancake Flipping. Then in May we will hold a quiz to test your wits. For more information please see the event page. We look forward to seeing you there!
Also, why not join our Sutterton Surgery Facebook Group?
22nd Dec 2021
Protect Yourself And Get the Booster
Morning all,
The NHS in Lincolnshire is asking everyone aged over 18 who is eligible to please come forward and get their Covid-19 booster now - don't delay!
Omicron is a real threat to all of us and getting boosted is the best way to protect you and your family. We're also urging people who've only had one vaccination so far, or possibly none at all, to come forward as quickly as possible. Visit this website or call 119 to find out how.
17th Dec 2021
Suspicious Patient Access Emails
There have been reports of some suspicious Patient Access emails. Patient Access has provided guidance here.
17th Dec 2021
Are You Covid-19 Positive?
Morning all,
We just wanted to remind patients to not enter the surgery if they have a positive Covid-19 test or possible covid symptoms. Please take a look at the current Government guidance on stay-at-home measures for further information. Help keep our practice and our vulnerable patients safe.
15th Dec 2021
The Surgery over Christmas
Christmas is coming! Our tree is up and our Christmas music is playing. We hope you are all wrapped up warm and keeping safe.
Just to let you know, we are shut on Monday 27th and Tuesday 28th over Christmas, Monday 3rd January for New Year in addition to the weekends as normal. When ordering your medications, please consider these dates and allow for extra time for us to get it ready as we do get busy over the Christmas period.
With that said, Merry Christmas and hope you have a safe and wonderful holiday.
3rd Dec 2021
Bereavement Support Coffee Morning
Afternoon,
Our Bereavement Support Group is holding a coffee morning Saturday 11th December 2021 at 10:30 - 12:00pm in the lounge at Sutterton Village Hall. All are welcome, whether you are a new or returning member. Just know you are not alone. We look forward to seeing you all there and listening to your experiences.
- Karen A
3rd Nov 2021
Dispensary Maintenance
Morning,
On Wednesday 10th November, there will be some brief maintenance in dispensary 1pm-3pm. The disruption isn't expected to last too long but please keep this in mind when collecting your medications. Thanks!
28th Oct 2021
Flu Jabs
Please contact the practice to book in your flu jab as we have plenty of supplies now. Thank you for all those who turned up to the Flu Clinics!
14th Oct 2021
Covid Booster Vaccination
Hello all,
We are now contacting patients to book them in for their Covid Boosters as we have some limited supplies. Please wait to be contacted as we only have limited supplies. Thank you for your patience and keep an eye on this website for updates as more Boosters may come in.
14th Oct 2021
Bereavement Support Group
Morning all,
I wanted to spotlight our Bereavement Support Group for those who have lost loved ones. If you are interested, please give us a call and Karen Allen will be happy to discuss it further with you. Thanks!
5th Oct 2021
Prescription Collection
Morning,
We have now opened up our waiting room for people collecting prescriptions. Please wear a mask, sanitise your hands and maintain social distancing when coming into the surgery. Thank you!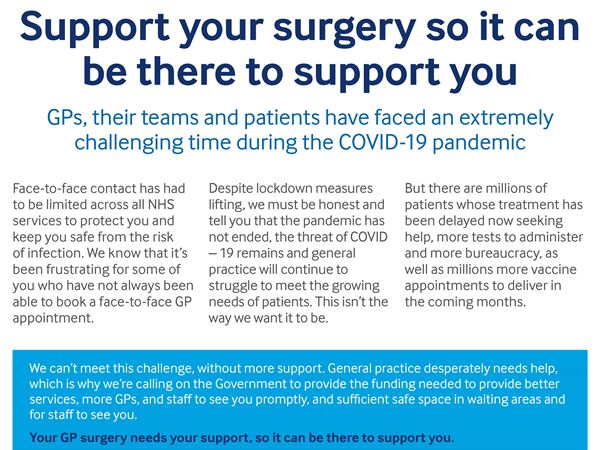 21st Sep 2021
Support Your Surgery
The BMA have launched their Support Your Surgery campaign to help GP practices out during the pandemic. Please sign their petition calling on the UK Government to provide the urgent resourcing needed to increase the number of GPs in England.
20th Sep 2021
Introduction
Hello all,
We are going to launch a blog page for Sutterton Surgery. This blog will provide brief updates on what's going on here at the surgery. We hope this will keep people up to date with the latest news.
Thank you all and stay safe.
Karen, Dr Hughes & staff
20th Sep 2021
Dr Warren
Afternoon,
sadly we can confirm that Dr Warren has decided leave the practice and retire from medicine. We want to thank him for all the work he has done and the patients he has helped. He will be missed!
- Oliver