14th Oct
Covid Booster Vaccination
Hello all,
We are now contacting patients to book them in for their Covid Boosters as we have some limited supplies. Please wait to be contacted as we only have limited supplies. Thank you for your patience and keep an eye on this website for updates as more Boosters may come in.
14th Oct
Bereavement Support Group
Morning all,
I wanted to spotlight our Bereavement Support Group for those who have lost loved ones. If you are interested, please give us a call and Karen Allen will be happy to discuss it further with you. Thanks!
5th Oct
Prescription Collection
Morning,
We have now opened up our waiting room for people collecting prescriptions. Please wear a mask, sanitise your hands and maintain social distancing when coming into the surgery. Thank you!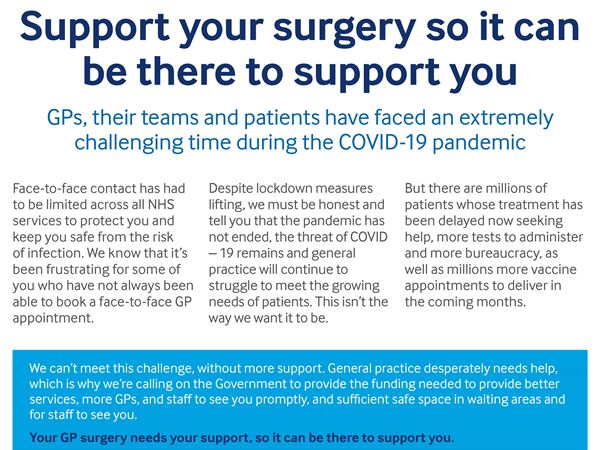 21st Sep
Support Your Surgery
The BMA have launched their Support Your Surgery campaign to help GP practices out during the pandemic. Please sign their petition calling on the UK Government to provide the urgent resourcing needed to increase the number of GPs in England.
20th Sep
Introduction
Hello all,
We are going to launch a blog page for Sutterton Surgery. This blog will provide brief updates on what's going on here at the surgery. We hope this will keep people up to date with the latest news.
Thank you all and stay safe.
Karen, Dr Hughes & staff
20th Sep
Dr Warren
Afternoon,
sadly we can confirm that Dr Warren has decided leave the practice and retire from medicine. We want to thank him for all the work he has done and the patients he has helped. He will be missed!
- Oliver